25 June 2019
Prof. Guy Monnet receives 2019 Tycho Brahe Medal
Five EAS members will receive prizes this week at the annual meeting of the European Astronomical Society (EWASS2019) in Lyon.
The Tycho Brahe Medal is awarded to Prof. Guy Monnet (CRAL, Université Claude Bernard Lyon 1, France) for fundamental contributions to the development and implementation of 3D spectroscopy on optical and infrared telescopes, and for his international leadership of observatory instrumentation programs.
Guy Monnet took responsibility for the organization and management of science. He became director of the Marseille Observatory at age thirty. He went on to become director of Lyon Observatory, director of CFHT, head of the ESO Instrumentation Division and head of AAO Instrumentation. His vision has successfully impacted the development of ground based instrumentation world-wide.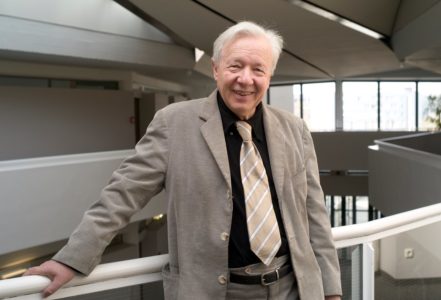 For example, most of the first and second generation VLT instruments were developed under his stewardship. He also guided the development of Adaptive Optics at ESO producing what is now the Adaptive Optics Facility. Monnet has a deep knowledge of all aspects of instrumentation, driven by his passion for astronomy. Recently Guy Monnet has disseminated his knowledge of 3D instrumentation by writing the first textbook on this subject together with Roland Bacon.
The 2019 Lodewijk Woltjer Lecture is awarded to Prof. Licia Verde (ICREA at University of Barcelona, Spain)for outstanding work in cosmology, especially in the study of the cosmic microwave background and the large-scale structure of the Universe.
The 2019 MERAC Prizes for the Best Early Career Researcher are awarded in:

– Theoretical Astrophysics, to Dr Nikku Madhusudhan (University of Cambridge, United Kingdom) for pioneering contributions to exoplanetary science, particularly in advancing the frontiers of atmospheric characterization of exoplanets;
– Observational Astrophysics, to Dr Evan Keane (SKA Organization, United Kingdom) for investigations of the Transient Radio Sky and the discovery of the second Lorimer burst, now known as Fast Radio Bursts;
– New Technologies (Multi-Messenger), to Prof. Irene Tamborra (University of Copenhagen, Denmark) for pioneering contributions to understanding the role of neutrinos in astronomy and astrophysics.
The MERAC Prizes consist of 25,000 euros.
All five awardees will give a plenary lecture.
END OF PRESS RELEASE
—————————————————————————————————
EAS press contact:
Marieke Baan
E-mail: ewass-press@kuoni-congress.info
Phone: +31614322627
At the annual meeting of the European Astronomical Society (EWASS2019) over 1200 astronomers are gathered 24-28 June in Lyon, France.
More information about EWASS2019: https://eas.unige.ch/EWASS2019/
More information about the EAS: http://eas.unige.ch